[x]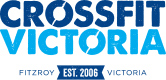 LOOKING FOR A FREE CROSSFIT TRIAL?
TRY CROSSFIT FREE WITH THE ORIGINAL VICTORIAN AFFILIATE
IN FITZROY, MELBOURNE

My name is Scott Waugh, I'm the owner and head coach of CrossFit Victoria.
You're invited to come and experience CrossFit Victoria's 300sqm+ facilities — at absolutely no cost to you.
Since starting CrossFit Victoria over 7 years ago in 2006, I've worked hard to make it a place where 200 people can come in and train every week to see improvements in their fitness, achieve weight loss results and improve their levels of health and happiness.
The community we've created allows each one of our members to improve their fitness in an environment that is free of the usual gym egos and false promises — and there's plenty of fun to be had and friends to be made within our great community, while you achieve your results.
Now like you, I believe in trying before you buy. And that's why I'm inviting you to come in to CrossFit Victoria at absolutely no cost for you, and try out our facilities absolutely free.
We don't believe in pressure sales, or any of that globo-gym junk. Instead, we like to
make sure that you're the right fit for us, and we're the right solution for you.
CONFIRM YOUR DETAILS BELOW TO BOOK YOUR FREE TRIAL
The 4 Things You MUST Know About Training At CrossFit Victoria
Results – Firstly, it's about results.  You are coming to me to achieve goals, these are generally to improve your fitness or for weightloss.  I believe 100% in making sure you achieve your goals whatever they may be.
Community – We really are a fitness family here at CrossFit Victoria. Beyond the training and results is an amazing social community. The sense of belonging, continued encouragement and friendly competition pushes us all to new heights. We succeed at a faster pace through the interaction with other members at our facility. This sense of belonging extends beyond the workouts. We encourage our athletes to get to know each other, to form social bonds, to network, to help each other and this further strengthens what we do and who we are.
Quality Coaching – WE LOVE COACHING!  It's what we do, it's what we are passionate about and what we live for. We have also been doing it for a long time!
We are one of the most experienced CrossFit gyms not just in Australia but in the world!  We were the 3rd CrossFit gym in Australia and in the first 100 CrossFit gyms in the world, there are now over 10,000 worldwide.Don't just take my word for it though, here's what some of our members say:
We cater for all levels – Crossfit is for everyone!  You don't need to be fit to start, you come here to get fit.  All workouts can be scaled to suit your level.  We cater for beginners and love working with people who are just starting their fitness journey.
What To Expect From Your Free Trial At CrossFit Victoria
When you arrive you'll be greeted by one of my friendly staff, we'll then do two things.
We will ask you about your goals, and where you want to be 12 months from now, as well as what obstacles you feel are holding you back. Then, we'll give you a complete tour around the facility, and show you where everything is located.
Then, once you've got an idea of the space, we will start the FREE class.
The Free Class (60 minutes) Schedule:
Warm-up – 10 – 15 minutes to get the mind and body warmed up and ready to go.
Technique – functional movement is critical to CrossFit, movement education is fundamental to what we do.
Workout – challenging, but achievable, this will give you a taste of what CrossFit workouts are like.
We welcome people of all levels of fitness and from all walks of life. By the end of the trial class you will have seen our gym, learned about the CrossFit philosophy, done a short intensive workout and met our friendly fitness family.
This lasts for 60 minutes and afterwards we'll have a chat about whether or not this is the right fit for you.
We Only Have Room For 200 Members
I'm unapologetically defensive about the community and culture I've built up at CrossFit Victoria and it's important to me that it is preserved. When we have people come in for a Free Trial, we want to make sure they're a good fit for us — and that we're a good fit for them. Because it doesn't benefit anyone if one of our limited 200 spots goes to someone who doesn't fit.
Again, please understand — we've worked hard to build a facility where everyone is like family, and everyone knows each other's name. And we want you to have the best experience for your desired results.
So if we aren't a good fit, no hard feelings. We're even happy to introduce you to other facilities that will help you achieve your results in a way that you're comfortable.
We're looking forward to seeing you soon,
Scott and the team at CrossFit Victoria.
What Details Should We Use To Reserve Your Free Trial?
P.S. Got a question? That's cool.
Here's a couple of common questions we get from our Members before they join:
I've heard CrossFit is really intense?

It's true that one of the CrossFit philosophies is intensity, however that is often misinterpreted. We first focus on technique, then consistency of technique and only then when you have mastered the movements do we add in the intensity. Also all of the workouts are fully scalable to suit all levels of fitness so intensity is relative to the individual its not a "one size fits all" approach.
Do I need to be fit to do CrossFit?

This is one of the most common questions I get.  You don't need to be fit to come to come to CrossFit you come to CrossFit to get fit!  We work with beginners and people of all fitness levels day in day out.  I've been training beginners for well over 10 years now so you are in good hands.
And of course, if your question isn't answered, you can ring myself or the team on 9417 4907 at any time.
SUBMIT THIS FORM TO RESERVE YOUR FREE TRIAL TODAY
Close [x]