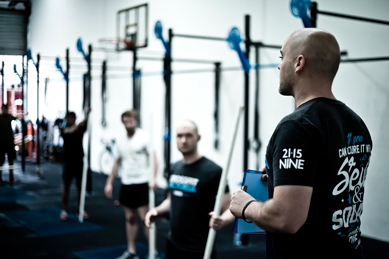 CrossFit Victoria is a fully licensed CrossFit affiliate. We were the first affiliate registered in Victoria, the third affiliate registered in Australia and registered in the first 60 worldwide. We've been coaching the CrossFit method for quite some time now. All of our coaches are CrossFit certified as well as holding numerous other qualifications. We are passionate about fitness training. We love to coach. We don't believe in fads, gimmicks or an easy path to results. We believe in hard work, in sweat, and in sacrifice. We believe that you get out only what you are prepared to put in. You can find out more about our coaches, facility and community by joining us for a free trial class.
The majority of CrossFit training occurs in a class environment. This is where the best results are produced. The class environment develops an amazing relationship among the athletes. There is a lot of encouragement and friendly competition. The workouts, the environment and the community lead to awesome results. We've seen it time and again and this is why we recommend doing your CrossFit training in a class.
Private training and small group training outside classes is available by appointment. These services generally extend outside the scope of CrossFit as we begin to tailor training to the individual. If you have specific goals, need to rehab an injury or just want some closer attention, private training is a great option.
Additional training options – including Olympic weightlifting, power lifting, gymnastics and sports conditioning – are available.
We like to make it as simple as possible for you to get a taste of CrossFit training.  The easiest way to get started is with a FREE CrossFit trial.  Book yours today by clicking below.